One place, three atmospheres
The Restaurant
Comfortable and original decorated, the room is ideal for having a good time with friends, colleagues or family. And if you prefer a romantic dinner, we also have tables just for two.
The bar
At the bar, the atmosphere is friendly and festive.
Fancy with a little musical aperitif for Happy Hour?
Want to discover a new cocktail? This is where it happens.
The terrace
You can also sit on the terrace in the sun. It is the ideal place to taste seasonal dishes for lunch and dinner, accompanied by a good glass of fresh rosé.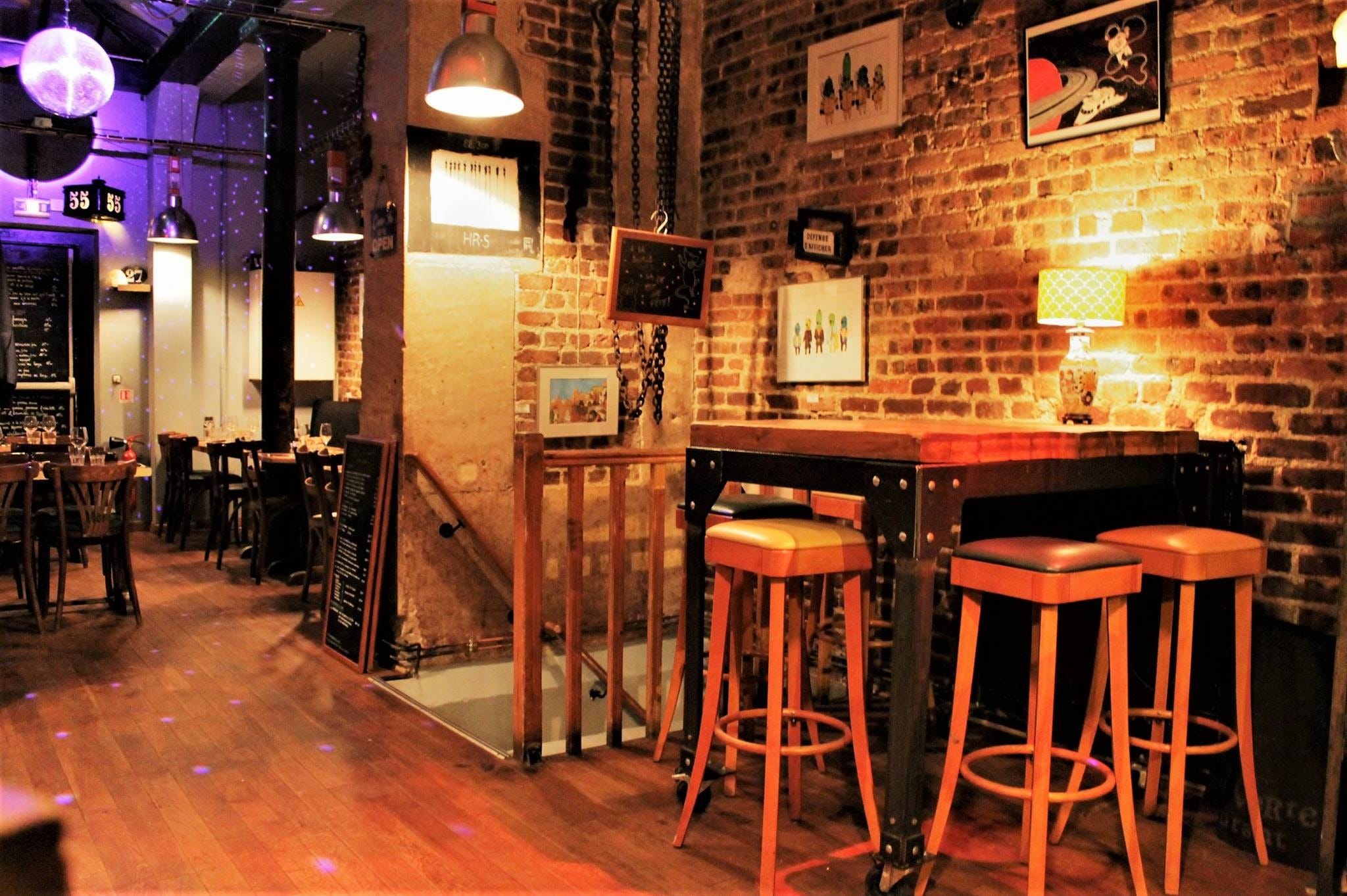 The Boss "EL Ché(f)"
For our boss, having his own restaurant was a childhood dream. It is him and his curly hair, worthy of Linguini from the film Ratatouille, the restaurant La SouRis VeRte owes its name.

No one believed he would succeed! But he was able to transform this small neighborhood restaurant into a must-see in the 18th arrondissement in Paris. Thanks to major renovations, he has reinvented the spaces to give them that special character. And the atypical decoration and many antique objects, worthy of the collector that he is, are proof of this.
The Cooking Chef
At the stove works our chef, a lover of cooking for a long time. He has at heart to offer you new dishes of the day every lunchtime and an evening menu resolutely anchored in the culture of bistronomy.

He gives free rein to his imagination to propose original and creative dishes, and to make you discover new flavors.
Vos paramètres de cookies actuels empêchent l'affichage de contenu émanant de Google Maps. Cliquez sur "Accepter et afficher le contenu" pour afficher ce contenu et accepter la politique d'utilisation des cookies de Google Maps. Consultez la Politique de confidentialité de Google Maps pour plus d'informations. Vous pouvez retirer votre consentement à tout moment dans vos paramètres des cookies.
Accepter et afficher le contenu
Address
La Souris Verte
190 rue Marcadet
75018 Paris
Subway
Lamarck-Caulincourt
Jules Joffrin
Guy Moquet
Opening Hours
Monday to Saturday
10:00 am - 02:00 am
(closed sundays)